Bygg högtalare själv. högtalarsatser slutsteg förförstärkare RIAA-steg mm. Carlsson carlson carlsson Karlsson Karlsson loudspeakers exklusiv Hi-Fi lågpris vardagspris stormarknadspris stärkare försteg förförstärkare RIAA satnav GPS navigator navigatorapp högtalarbyggsatser DIY high end hifi Facebook Google business bil bilstereo stereo musik musikanläggning toppkvalitet högsta kvalitet ljudkvalitet DY
Poweramp 5


After years of development the Poweramp 5 stereo power amplifier was finally ready late 2018. Using 100% discrete, fast semiconductors throughout the ampliers and optimizing each stage, we managed to get the sound totally neutral. It neither adds nor takes away even the smallest detail. There is no audible distortion or coloration. You hear everything from deepest bass to highest treble exactly as it is ment to be, which makes your music really enjoyable. And you can listen for hours without any listening fatigue. Power output is 50 W RMS (+/- 1 dB) per channel and frequency range stretches from about 3 Hz to well over the highest frequencies any human can hear. So, it does not matter if you are a regular music lover, an audiofile or a recording engineer who needs a very reliable amplifier. The Poweramp 5 will satisfy you completely.
For more info about the kits, prices to different countries et.c., click here.
Building instructions - it is

really

simple to build, no soldering at all - click here.



Preamp 2


Our really high-class HiFi preamplifier with three line inputs and one RIAA input for vinyl players. The clean easy-to-listen-to sound with a very low noise level makes listening to music really enjoyable. Don´t bother to buy a separate RIAA amplfier, the one included is among the best there are when it comes to musicality and low noise. We were thinking "out of the box" when designing this preamplifier, so except for the volume-, balance-, treble and bass controls, this is a very special preamplifier! Click here to read more.



What do our customers think about our products? Facebook to the left, Google My Business to the right: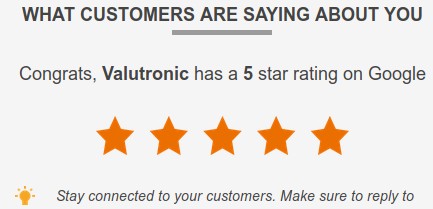 Top quality Hi-Fi amps and speakers not found anywhere else.
Valutronic (Sweden) was started in 1968. We have designed, produced and sold our own electronics since then, both audio equipment and a vast range of industrial and automotive electronics as a subcontractor.
When it comes to audio products,
sound quality and reliability are our first priorities.
We select just the right components and design our products with great care. Our amplifiers only use discrete ultra-fast and low kapacitance semiconductors.
Our loudspeakers use carefully selected and individually tested drivers and we use high-quality filter components.
No corners are cut to increase production speed or profit as mass-producing companies are forced to.
We hand solder our PCB:s to make sure every single solder is OK, to ensure long-lasting quality performance.
When you buy your Hi-Fi from us you get the highest possible quality to price ratio.
Loudspeakers:
We have designed and built loudspeakers since the company was started, but in 2004 we decided to take a closer look at a bass reflex design I stumbled over on a dutch private website. We used the formula from the site to design our first SQ-50 loudspeakers. (SQ stands for Studio Quality and 50 for the RMS power.)
Klick here for the SQ-50 H
,
here for the SQ-50 L
studio quality monitors and
here for the orto-acoustical SQ-50C.
The most recent design is the SQ-50-20, the "mini variant" (but not mini sound!) of the Sq-50´s.
One of our first SQ-50H customers was a recording studio in Sweden, and since then (early 2006) dozens of recording studios and thousands of private customers (in many countries) have built these wonderful loudspeakers using our HSQ-50 kits.
The sound quality of the SQ-50 range is almost identical to the Sennheiser studio headphones we use for reference.
The detailed sound, low distortion and wide frequency response (no need for a subwoofer) puts them among the very best sounding speakers you can buy. And at a price you can afford.
We do not recommend using the loudspeaker drawings and instructions on our site for practical use. They are here only to give an idea of how easy it is to build your loudspeakers using our instructions, the size references may not be correct.
So, please wait for the printed instructions that are included in our speaker kits until you start your project.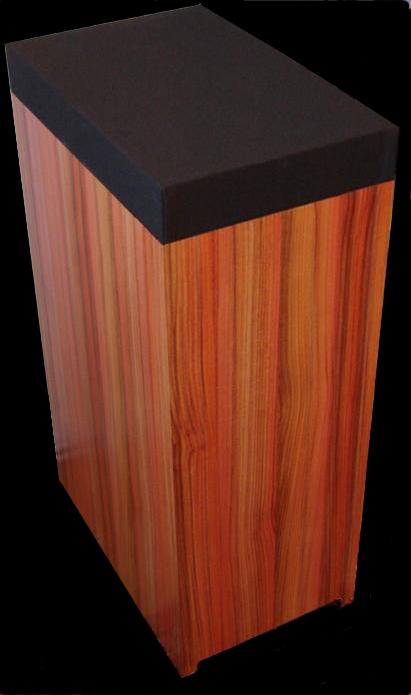 By the way, the C variant of the SQ-50´s looks like this. If you live outside Sweden you might never have seen a loudspeaker looking like this. However, during the 1960´s and 1970´s at least 100,000 of the "Sonab OA5 MK II" were built, making it a world best seller.
The SQ-50C is an improved model we have designed ourselves, using modern high-quality components to produce even lower distortion and better bass response.
These loudspeakers were
specifically designed for a normal living room environment.
They have three unique features:
1. Music sounds like if the musicians are playing in your own room.
2. You don´t have to find a "sweatspot". The music is enjoyable all over the room.
3. You can place the speakers where they fit in with your furniture, instead of moving your furniture to make place for the best positions of your speakers.
Read more about the CM-50C orto-acoustical loudspeaker here.
Click here for the H
,
here for the L
or
here for the C
variant.
We export to most parts of the world!
Some amplifiers have the possibility to counteract room resonances by adjusting the frequency curve.
Should you use it? To answer this question you have to take psycho-acoustics into consideration. That is, how we
perceive
sound.
Because your brain adjusts your hearing for the room you are in.
Read more here.
Reviews on Google My Business.
CM-100 (review no 3) is called Poweramp 5 since the spring of 2019. Since 2018 it had used the 5th generation of our power amp modules (CM-5018) and we wanted the name to show this. At the same time we released the second generation of our preamplifier, named Preamp 2.